To use DiffPlug, you need:
Microsoft® Windows® XP/Vista/7/8/8.1 operating system
Approximately 150 MB of free disk space
An OS X and Linux port are currently under development.
Mathworks® Simulink® R2008a to R2013b
Mathworks® Stateflow® R2008a to R2013b
Any version control system
Any text file
Image: bmp, ico, jpg, gif, png, tiff
Mathworks® Simulink® and Stateflow®: mdl, slx
To install DiffPlug, you must have administrative rights.
You can download the installer file here. Once the file has downloaded, double-click it to start the installation wizard. There is no need to reboot - you can run the program as soon as the wizard completes.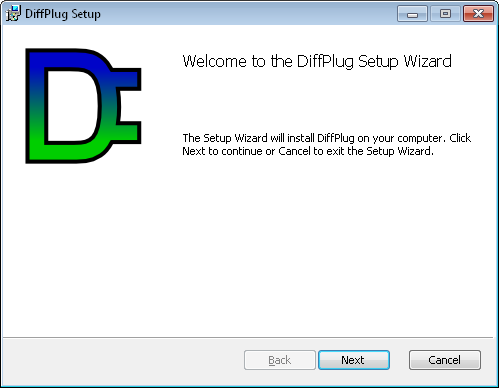 Optionally, you can also install the DiffPlug Explorer Extension, as described here.
If you decide to uninstall DiffPlug, you can do the following:
Go to the Windows Start menu,
Select Control Panel,
Choose Programs and Features
Find DiffPlug in the list of currently installed programs and click the Uninstall button.